Features of TZNZ hook-type shot blasting machines:
Moving block of turbines – max. angle 55°;
Y-rail with two hooks;
Turbine inverters;
PLC system with touch screen;
Base hole for machine is not needed;
Separation of abrasive material;
Online diagnostic system.
TZNZ hook-type blasting machines parameters:
TZNZ 2
5,5/12-17
TZNZ 3
5,5/12-23
TZNZ 3
7,5/16-23
TZNZ 4
7,5/16-31
Max.
Max. detail
diameter (mm)
1200
1600
3300
Max. detail
height (mm)
1700
2300
3100
4500
Hook capacity (kg)
500/1000
1000/2000
2000
Number of turbines
2/3
3
3/4
4
6
Turbine power (kW)
5,5/7,5/11
11
Blasting wheel
speed (rpm)
2900
2900
TZNZ shot-blasting machine – innovation and quality
The main goal of Alumetal-Technik company is continuous improvement in the shot blasting process. Because of that, we became exclusive polish representative and service unit of Kovo Staněk, s.r.o. – the most innovative producer of wheel blasting machines in Europe. The TZNZ hook-type blasting machines with moving block of turbines are flagship product line of Czech company. From the outside, the TZNZ machines look like ordinary hook-type blasting machines, but unique solutions its allows to redefine the shot blasting process. The TZNZ hook-type machines are faster, more precise, consuming less abrasive and electricity.
Moving block of turbines
The moving block of turbines is a gamechanger in the world of abrasive blasting. During the process, the hook is rotating inside the blasting chamber, but it is not of moving elements side-to-side to expose them to the abrasive stream – the blasting wheels lean out by an angle up to 55˚ instead. The range of turbines is shown on the scheme below.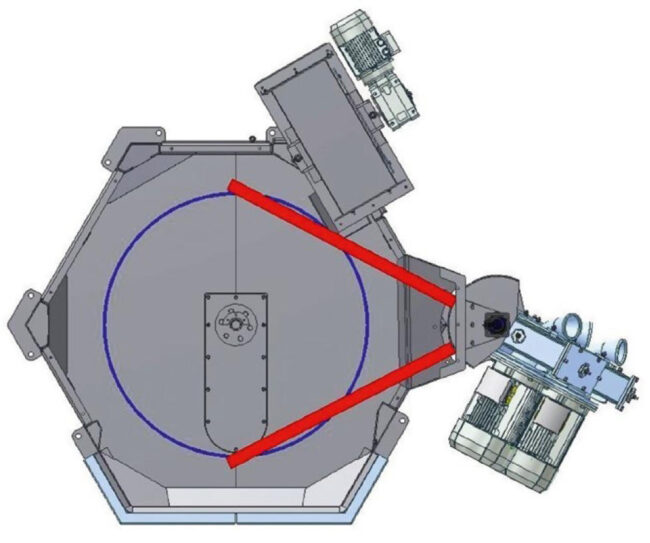 Thanks to this solution the TZNZ blasting machine with the same size allows to clean bigger elements than standard device. The operator has full control over the abrasive stream through the touch screen and he can direct the abrasive stream on every point of the detail.
Long-life turbines
Every Kovo Staněk's machine is equipped with MT 350 turbines. The Czech engineers took the classic turbine project and upgraded it with the double-bearing motor shaft and special sealing ring increase the lifetime of this heavily exploited part.
TZNZ – the next-generation blasting machines
The TZNZ shot blasting machine with the moving block of turbines is the result of years of experience and the brilliant engineering, which make it one of the most advanced, end efficient devices on the market. If you are interested in our solution, do not hesitate to contact our technical consultants or visit the Alumetal-Technik Service Centre to know more and test the TZNZ machines.